Our name speaks for itself, Do It Right Termite! And we stand by our name. When it comes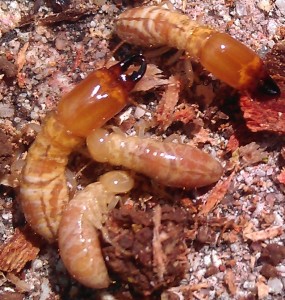 to termites, they can be an extreme nuisance and may also cause severe damage to your home and property if left untreated. There are different species of termites, all with different characteristics, creating the need for different types of treatment methods. There may be multiple ways to kill a termite, including stepping on them, but D.I.R.T. uses the most effective methods possible to control and eliminate the termites.
Preventative Treatments
No matter the risk at hand, prevention is always better than cure. We offer preventative treatments for Drywood and Subterranean Termites ensuring your home stays termite free. Drywood Termites tend to infest wood by locating an untreated area of that wood for easy access. Once inside, they continue to feed on the wood, without the need to leave as they extract water directly from the wood itself. D.I.R.T. treats the exposed untreated wood in your attic protecting the structure before termites can infest the wood. Subterranean Termites however, require more moisture, and as such, arise from the soil around your home. Protection from these termites will involve applying a termiticide around the base of the structure, which if not disturbed, will remain in the soil for many years, creating a barrier in the event that the Subterranean Termites were to come in contact with it, die before entering the structure.
Soil Pre-Treatments are also available for new construction or construction repairs where it is a requirement to have the soil treated for termites before pouring the concrete slab.
"No-Tent" Treatments
Our No-Tent treatments refer to Drywood termites that have already infested a particular area of the structure. If the termite activity is not widespread throughout the entire structure, and is only observed to be in a limited number of areas, D.I.R.T. can perform treatments to these active areas and eliminate the activity without the use of fumigation. D.I.R.T. guarantees that if termites appear in any location that has already been treated, D.I.R.T. will re-treat that area for FREE as long as the structure is under warranty with D.I.R.T.